How to Start Your Maileg Collection
Ready to start or expand your collection of Maileg friends?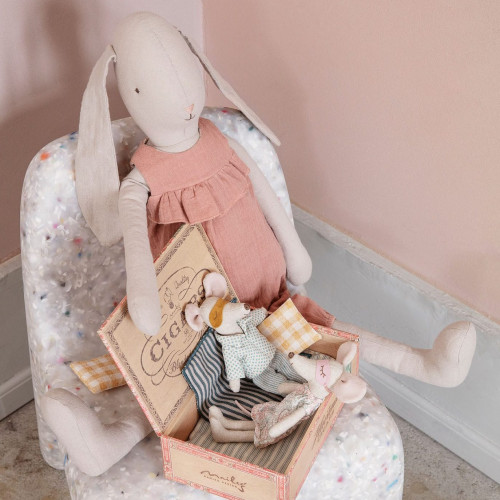 If you just discovered the beautiful Maileg universe there is a question that pops into your mind – what should I begin with? Here we offer you an overview of our Maileg friends.
Of course, you'll have your personal favorites, and it depends on who it is for. We have put together a little guide and overview of the different Maileg products.
In general, you can mix and match all products, but people tend to start with a theme and then extent their collection along with other Maileg characters.
Always remember – there are no limits to your imagination.
Mice
Our mice for everyone! They are the ambassadors of Maileg and appeal to every age group.
How about the mice family? The sister and brother mice in different sizes live in a box, which makes it perfect to take to every playdate and on vacation. You can find a selection here.
We have different themes in the mice category!
Do you know our dance collection? Get to know Giselle, Swan Lake, and the dancer mouse, which have their ballet studio and will practice with you all dance moves that a ballerina or ballet dancer should know.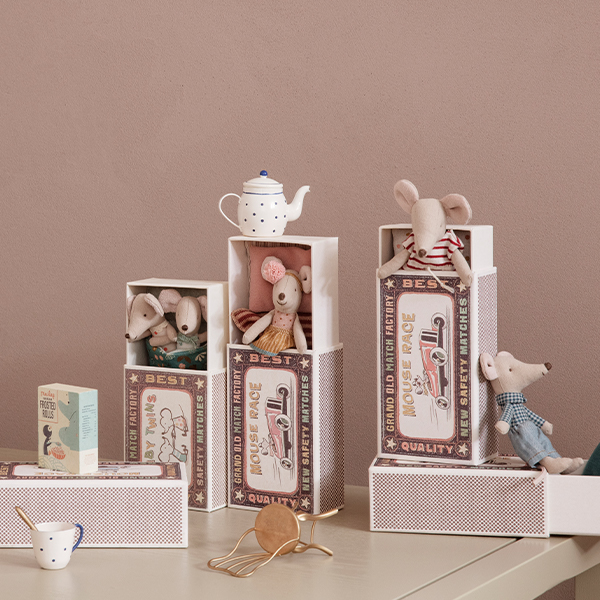 Bunnies & Rabbits
Bunnies and Rabbits are special to the Maileg World. They are one of the original collections and have been through many redesigns. They are multiplying! It's safe to say the newest generation of Maileg Bunnies is the most adorable yet.
The redesigned bunnies and rabbits are made from a new blend of cotton and linen for softer cuddling and are available in hand-held or life-size.
Their attitude is confident and comforting. Making a friend from this collection will surely bring a smile to any child's face and will be their friend forever. Oh and remember Ears Up = Rabbit. Ears down = Bunny.
Find your long-eared friend here.
Soft toys
Our collection of soft toys is a baby's kingdom of animal friends, from Noah's ark to the rattles and safari friends.
Our plush toys are fat and mushy – the softest, most huggable friends for baby and smaller children.
Have you seen our sweet Teddy family? Teddy mom, dad, and junior have their own clothing and furniture. They are ready for a party and for a good night's sleep.
These cute beloved friends can accompany their lives from the very beginning and support them throughout every challenge.
Find your soft friend here.
There are just so many options to combine Maileg products, repurpose them and let your imagination become wild. Mix and match mice & bunnies, rhinos & pigs let them all be friends and make memories together.